• cock & ball • cock ring • cockring • erection maker • instructional • penis ring
What is a cock ring?   A cock ring (or cockring) is a cock toy used to increase sensitivity both before and during orgasm. It can help make your penis larger and harder. It allows you to maintain an erection even after an orgasm.   How does a cock ring work?   Positioned at the base of the penis or behind the scrotum, a cock ring slows the blood in your erect penis from returning to your body. It is meant to restrict blood flow to keep your penis engorged. It is NOT intended to cut off blood flow altogether....
---
• bdsm • cbt • cock & ball • cock & ball torture • cock ring • cockring • instructional • s&m • sadomasochism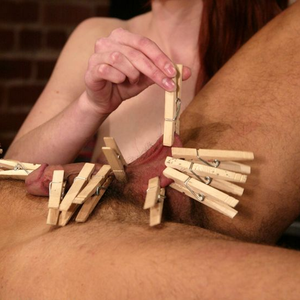 Don't Force Anything   Using or wearing a cocktoy or cockring should be pleasurable. Select an item that is comfortable. It can be snug but not too tight as to cut off blood flow. Do not force a cockring that is too small or wear a cocktoy that is too heavy.     Be Careful of Sudden Moves The penis or scrotum can be injured by sudden blows. In the case of the erect penis, sudden changes in position, sudden jerks to the side or bending of the penis can rupture veins, cause swelling and pain. To alleviate pain,...